The top video marketing agencies in the UK have seen a lot of change since the pandemic, and one of the biggest changes is the growth of video content across every platform.
This provides a great opportunity for businesses to showcase their products and services in a more engaging and appealing way to potential customers.
As a result, video marketing has become an increasingly popular tactic for businesses to drive online traffic and convert leads into sales. However, with so many video marketing agencies to choose from, it can be tough to find one that can create high-quality content that fits your brand and drives traffic and sales.
That's why we've conducted thorough research and put together a list of the top video marketing agencies in the UK. We want to help businesses navigate this crowded market and find the perfect agency that fits their unique business needs.
What constitutes a Top Video Marketing Agency?
Not all video marketing agencies are created equal, so it's important to ensure you choose one that can provide the best service and deliver results that benefit your business.
Here are some factors to consider when evaluating a video marketing agency:
Experience and expertise: Look into the agency's experience in video marketing. Review their portfolio to see the quality and effectiveness of their previous video campaigns. Consider whether they have worked with businesses similar to yours or within your industry.
Creative capabilities: Assess the agency's creativity and ability to develop engaging and compelling video content. Look for their storytelling techniques, visual aesthetics, and overall production quality. Consider whether their style aligns with your brand's identity and target audience.
Strategy and planning: Evaluate the agency's approach to video marketing strategy. They should understand your marketing goals, target audience, and overall brand messaging. A good agency will develop a strategic plan that outlines the objectives, key messages, distribution channels, and metrics for success.
Technical expertise: Consider the agency's technical capabilities and production resources. They should have access to professional equipment, editing software, and a skilled production team. If you have specific requirements like animation, special effects, or live-action filming, ensure the agency has the necessary expertise.
Distribution and promotion: Assess the agency's knowledge of video distribution and promotion channels. They should have a solid understanding of various platforms such as YouTube, social media, email marketing, or website integration. Inquire about their strategies for maximizing the reach and visibility of your videos.
Client references and testimonials: Request client references or testimonials from the agency. Reach out to their past or current clients to gain insights into their experiences working with the agency. Ask about their level of satisfaction, communication, and results achieved.
Budget and pricing: Discuss the agency's pricing structure and ensure it aligns with your budget and expected return on investment (ROI). Beware of agencies that offer exceptionally low prices, as it may indicate a lack of quality or experience. Look for transparency in their pricing and any additional costs involved.
Communication and collaboration: Evaluate the agency's communication style and responsiveness. A good agency should be attentive to your needs, provide regular progress updates, and involve you in the creative process. Strong collaboration and a healthy working relationship are crucial for successful video marketing campaigns.
Analytics and reporting: Inquire about the agency's ability to track video performance and provide meaningful analytics. They should be able to measure key metrics such as views, engagement, click-through rates, and conversions. The agency should offer regular reports that assess the success of your video campaigns and provide recommendations for improvement.
Top Results Driven Video Marketing Agency
1) AerialJohnny
Our aerial filming services offer an unparalleled experience that surpasses all expectations. Our passion extends beyond the latest aviation technology, as we seamlessly merge artistry with scientific precision using both FPV and traditional drones, transforming your vision into reality. Rest assured, our remarkable expertise and comprehensive certifications guarantee the utmost safety and security for your project.
At the heart of our operation lies a commitment to astonishing your audience and delivering exceptional results without straining your budget. To provide you with peace of mind, we maintain comprehensive public liability insurance coverage, ensuring you are safeguarded in any circumstance. Our top-of-the-line fleet enables us to tackle drone film projects of any complexity, accommodating various sizes and formats.
We've worked on film sets, created incredible content for Adidas and SavagexFenty and have numerous travel and tourism boards who call on us to promote their destinations.
2) SPC13
They Are Branded Documentary Specialists. We help business and individuals connect with their audiences, build better relationships, and increase sales. We're a video agency that specialises in documentaries and branded films. Our team blends expertise in marketing and creativity to deliver outcomes that exceed expectations. Our philosophy of the "Creative Marketer" is at the heart of everything we do, from concept development to final execution.
Through our extensive research and analysis of over 10,000 pieces of original content and seamlessly integrating strategic positioning with data-driven creativity, we bring your vision to life in the form of stunning video content.
Additionally, we are dedicated to creating original productions, through both feature length documentaries and digital series that make a difference to the world we operate in.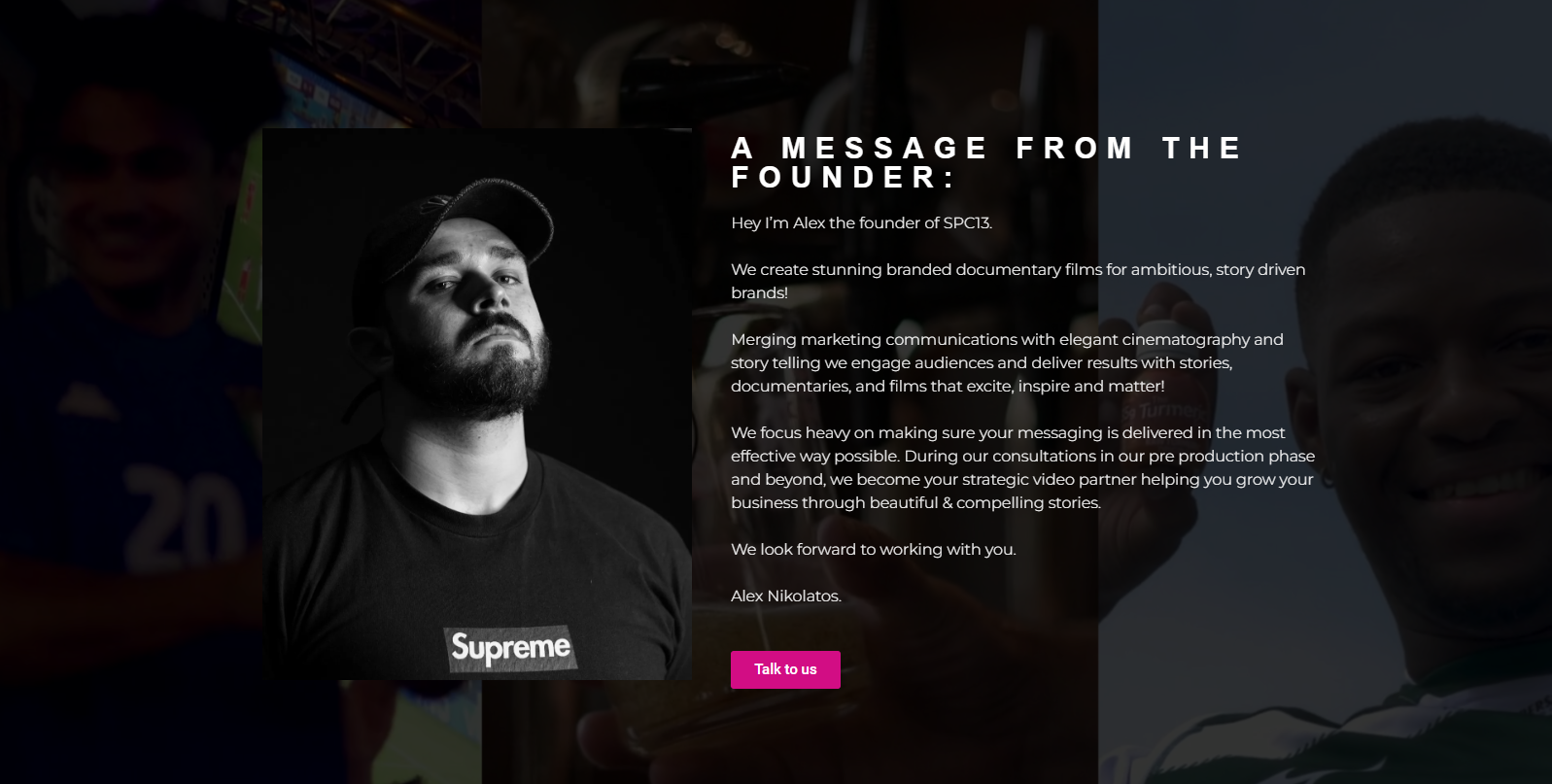 3) 3HeadsAgency
3 Heads is a fast-growing video and social media agency and we work with some of the biggest brands and personalities in the country.
We understand business owners need to focus on what they do best, which is running their business – and they often don't have the time or level of digital marketing knowledge that's necessary to really make their company stand out.
Our team are experts in their field, who have grown up and worked around digital media all their lives – and we have everything you need to generate brand awareness, leads and sales for your business.
3 Heads will ensure you reach exciting new audiences – whether that's through amazing videos, podcasts or a fantastic social media strategy.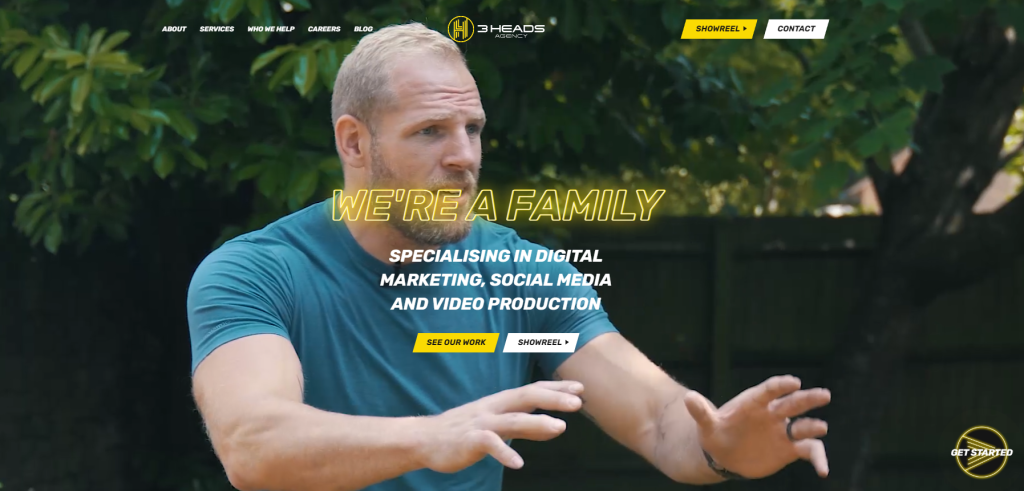 Nutmeg Productions is a London-based video production company comprising a team of highly creative individuals who share a passion for film, animation, and video. With years of experience in broadcast television, animation, journalism, and video production, they are well-equipped to handle any project that comes their way.
Despite being a small company, clients can expect to get to know most of the team while working on their video production. Nutmeg Productions is big enough to handle any challenge thrown their way and always deliver with a smile.
The company has an extensive portfolio of work, having produced video content and animation for NGOs, charities, corporates, and public sector bodies. With this breadth of experience, clients can trust Nutmeg Productions to bring their digital content expertise to their next video production project.
5) BEAST
The Beast branded content agency London UK team has worked across the media board in advertising agency, branded content production, TV production, TV Commercial production, fashion video& fashion photography and all areas of design including CGI animation and motion graphics. When choosing a UK & London Branded Content Agency we feel that there needs to be a perfect balance of experience and innovation. Our collective one stop shop approach allows us to offer a streamlined efficiency to branded content production in London and overseas too. Today everybody who has a website is capable of advertising their company by using branded content as the tool to get their story out there. What this means is that every brand needs a branded content agency London UK.
Why Hire A Video Marketing Agencies?
As a business owner, you know that video content is crucial for promoting your brand, expanding your reach, and boosting sales. That's why hiring a top-notch video marketing agency can make all the difference.
At AerialJohnny, we specialize in creating videos that drive conversions and deliver a strong return on investment. Our team has a proven track record of producing high-quality video content that delivers excellent results for our clients.
Whether you're looking to create a promotional video, a product demo, or a social media ad, we have the expertise to help you achieve your goals. So, if you're ready to take your video marketing to the next level, get in touch with us today by clicking the button below.